The Art of Client Service: 58 Things Every Advertising & Marketing Professional Should Know
12 de diciembre, 2012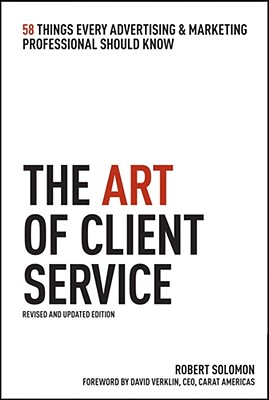 If you work with clients in any industry, The Art of Client Service is for you. If you work in an advertising or marketing agency, then this book is indispensable.
Distilling decades of experience, advertising executive Robert Solomon has compiled the definitive resource for advertising and marketing account executives: a fast-reading, pocket-size, actionable checklist of 58 essential ideas to help client service professionals improve their account management strategy and skills.
About the Author
Robert Solomon is one of America's most knowledgeable and respected client service executives. A frequent speaker on account management, Robert runs Solomon Strategic, a firm he founded in 1999 to provide marketing counsel and executive coaching to advertising agencies, client companies, and individual marketing professionals. He has a long-standing affiliation with Gardner Nelson & Partners, where he helps create effective integrated advertising/direct/interactive campaigns. Robert previously was CEO of Rapp Collins New York, President of Direct and Interactive Marketing at Ammirati Puris Lintas, Managing Director of FCB Direct West, and Senior Vice President at Bronner Slosberg Associates (now Digitas).