The Entertainment Marketing Revolution: Bringing the Moguls, the Media, and the Magic to the World
07 de abril, 2014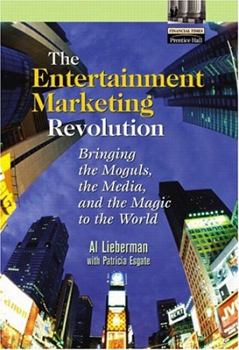 Entertainment is now a $500 billion industry that reaches into every corner of human life. The Entertainment Marketing Revolution: Bringing the Moguls, the Media, and the Magic to the World profiles that industry, from film to print, music to theme parks—and shows exactly how to find and reach your market in today's insanely competitive marketplace. Discover the driving forces, key synergies, new opportunities, and advanced marketing techniques today's top companies are riding to success… and learn how to create tomorrow's blockbuster properties, starting today.
AL LIEBERMAN is Clinical Assistant Professor and Director of the Entertainment, Media & Technology Program at New York University, a state-of-the-art program designed to help MBA and undergraduate students understand the strategy and operating principles that drive each sector of the entertainment industry, the financing of start-ups and product development, the marketing and management of entertainment companies, and relevant technologies that connect entertainment products with consumers.
Lieberman has extensive international and domestic marketing and advertising management experience with global communications companies. He worked at Young & Rubicam in New York, Milan, Italy and Sao Paulo, Brazil, managing Fortune 500 companies' advertising accounts before becoming Executive Vice President of the Wunderman Direct Response Division of Young & Rubicam.
Lieberman later joined Simon and Schuster as Worldwide Director of Marketing, becoming Executive Vice President of its Silhouette Books division. Most recently, he founded and served as CEO of Grey Entertainment, an advertising and marketing company whose entertainment, leisure and recreation clients have included Warner Bros. Studios, ABC Entertainment, Harper Collins, Westinghouse/Group W Radio, Viking Penguin, and Bertelsmann. He continues to maintain an entertainment consulting business.